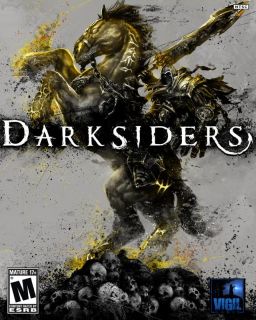 Finished Darksiders on Saturday.
This game is fun. You play War, one of the four horsemen … to bring devastation on the world. And, oh my, you do. Hell is loose, the angels and daemons are fighting each other and in the middle is mankind. Well, mankind: not long.
Soon you find yourself tricked and are "accused" to have been showed up at the wrong time, since noone actually has called for you. You are brought before the cosmic council and you are given a second chance to remedy your "failure". You are sent back to earth to only find out that centuries have passed since you have been trapped. You are weak and lost all your powers (and your horse). Further more, the council decided to attach an enervating spirit to you which watches every step you take...